Vancouver Bike Tour Guide
(Full-Time and Part-Time position)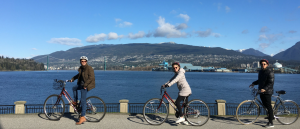 Do you love Vancouver?
Do you love talking about all the cool places to visit in Vancouver to anyone who will listen?  Are you ready to get paid to talk about Vancouver and join the best team ever! We're looking for 2 new guides to join our expanding team. Check out the job description below and apply now!

About Yes Cycle & the position
Yes cycle offers a wide range of activities for tourists who want to visit Vancouver. They can select to rent a bike or to be part of a guided bike tour. Our priority number 1 is to offer the best customer service to our clients. We need a passionate guide to join our team. You need to be fluent in English and another language is a plus. The positions are preferably full time ( 5 days a week) and Part time. The successful candidates must be available Saturdays and/or Sundays, with other weekday shifts available upon request. Shifts are around 7-hour long.

Think you're right for the job?
Here's what we're looking for:
Passion for Vancouver and history is a MUST
Ability to command and captivate a crowd and lead a tour for up to 14 beer lovers
Be responsible for a positive and memorable experience for each and every guest
Captivating storytelling and sales abilities
Outstanding customer service skills
Clean and professional appearance
Respectful sense of humor
Positive and enthusiastic attitude
Acute time management skills
Responsible
And of course able to ride a bike

Compensation
We provide a base salary, and the tips earned on Tours can be pretty high if you do a great job in summer ( May-October 2018!
You will receive the Challenge Tourism pass including complimentary access to Vancouver Top Attractions.

Other Requirements
Experience as a tour guide an asset
Have a smartphone with access to social media
Please note a police record check  will be requested from the successful candidates
First Aid certificate is a plus

How to apply?
1. Send us your resume to tours@yescycle.com
2. Fill up the following form: APPLY NOW