We had the pleasure to host the Yelp Event "Cycle Like a tourist" in June.
We had so much fun showing our friends from Yelp around Stanley Park! Such an enthusiastic bunch- some enjoyed the tour so much they did it twice!! A big thank you for joining us! We hope to see you again soon!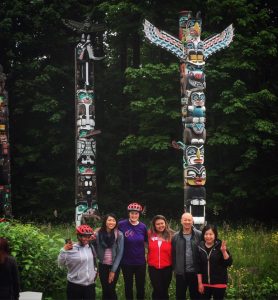 We are very proud to share Yelp 5 star reviews of our Yes Cycle bike tour
This morning's cycling tour led by Yes Cycle was a ton of fun! The weather was perfect – cloudy with no rain, and not too hot. The views were absolutely spectacular. The ride was easy enough for bike riders of all skill levels, and the Norco-branded cruiser rental bikes from Yes Cycle were so comfortable to ride in! But the cherry on top of the cake had to be our lovely guides Ashley & Katie – they were both so knowledgeable and friendly!  Although I've been to Stanley Park and biked/jogged along the seawall a couple of times before, I still greatly enjoyed today's cycling tour! I learnt some interesting new info from our guides about some of the local landmarks, scenic views, and even the rainforest.  Danielle, Vancouver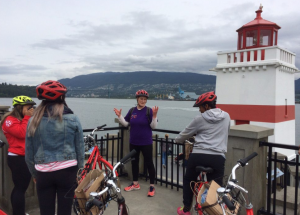 .
It was a very beautiful morning to go on a bike ride! I haven't ridden a bike in so long but Ashley, one of the Yes Cycle tour guides, was very reassuring. When I first got on the bike I was wobbly,  but after a while it just got easier! I've only been to Stanley Park once during a visit to Vancouver, and this tour showed me other sights that I had totally missed from my last visit! On our bike tour we had time to stop and take pictures of the First Nations totem poles. I don't know how I missed them the last time I was here! My favorite part of the bike tour was going through the rainforest area! It was serene, beautiful and magical! I wanted to take so many selfies with the cedar trees!  Time flies when you're having fun and indeed we had fun on our bicycle tour with Yes Cycle! Ashley and Katie were great showing different landmarks and telling us the histories. FYI: Yes Cycle also does bicycle tours in Spanish, French and German! I had a great time today! Thanks to the other Yes Cycle staff and to Isabelle for organizing this wonderful event! Tamia, Abbotfords.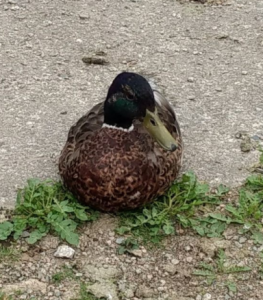 .  
What a wonderful day to go cycling with our Yelp friends. The weather was just perfect. Cool and not too hot. I have walked and rollerblade through Stanley Park, but this was the first time that have I biked it. Yes Cycle team did an amazing job at guiding us through the park with explanations and facts about the park , I've never really known about. We stop and enjoy the scenery and to learn about the history, the fun facts and about the parks landmark. Way to go. I enjoyed it very much.  It's such a fun way to start your trip to Vancouver with such knowledgeable staff. Ashley and Katie were on the ride with us and they both were awesome. They made the two hour ride go by so quickly. I just wish it could be longer. I guess I have to bring my wife next time, and explore more of the park. Thanks to Lea and the gift that was given to us, we will be back for sure. Again a big thank you to Yes Cycle for hosting this wonderful event. I would recommend this bike shop that does it it all for summer with bike rentals and rollerblades to winter with skis rental. Whatever that is bike related, they got it. We will be back soon. Cam, Vancouver.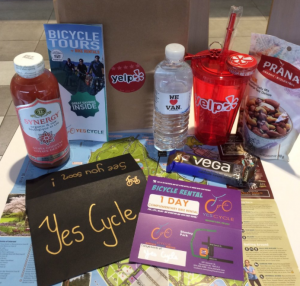 http://yescycle.com/wp-content/uploads/2017/06/Screen-Shot-2017-06-19-at-12.28.46-PM.png
655
930
Lea Granado
http://yescycle.com/wp-content/uploads/2018/05/yes-cycle-logo-1-300x138.png
Lea Granado
2017-06-19 12:37:38
2018-02-22 11:58:26
YELP: 5 Star reviews for Yes Cycle Bike Tours