Top Places to go for Desserts & Snacks near Denman Street
With Summer just around the corner, let Nicole help you find something cool, energizing and refreshing to eat after a glorious bike ride!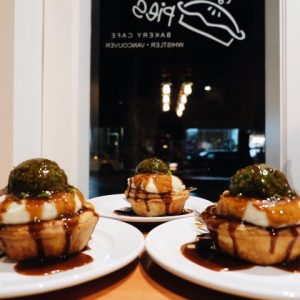 Peaked Pies
Address: 975 Denman St, Vancouver, BC V6G 2M3
No more driving to Whistler for meat pies! Peaked Pies is just 3-minute away from us. Handmade Australian savoury pies, sweet pies, breakfast pies, Australian style coffees and desserts. So what are you waiting for? The peak of your week will be getting a taste of peaked pies!
3 Quarters Full Cafe
Address: 1P5, 1789 Comox St, Vancouver, BC V6G
Want have some snacks and take a coffee break after a bike ride? Try out the signature cheese cake at 3 Quarters Full Café, this Taiwanese café combines the best aspects of a third wave coffee shop and Taiwanese comfort snacks, deep fried chicken nuggets and tofu are the musts, don't forget to order their gua bao as well!
Yogi Korean Snack Bar
Address: 1706 Robson St, Vancouver, BC V6G 2J7
If you want something light and simple, you should stop by Yogi Korean Snack Bar. With authentic and simple Korean food that is good enough to make your break enjoyable. Their signature kim bap and spicy rice cake would surely be your favourite comfort food!
Styo Dessert
Address: 907 Denman Street, Vancouver, BC V6G
Many people may think healthy and desserts cannot exist at the same time, however that's not the case. Since 2014, Styo Dessert has landed near the corner of Haro and Denman Street, giving the options of gluten free and low sugar parfait to fit everyone's favour. You can choose between ice cream and frozen yogurt with special homemade recipe. Their owner, Kenneth and Dorothy, came up with the name "Styo" as they wanted to sell stylish parfait. As a dessert enthusiast, Dorothy says she wants to give customers a different experience. "There are lots of self-served style frozen yogurt shops in Vancouver, which you basically just pick the frozen yogurt and toppings. However, you can taste one layer at a time with our parfaits, each layer comes with different flavours and textures."
All their parfaits, milk shakes or smoothies are made of real fruit and natural ingredients., there is no artificial.
The owners Kenneth and Dorothy love experimenting new products. They came up an idea with artisan fruit popsicles last summer.
If you are a fan of waffles, you should try out their stuffed croffle. Each waffle is freshly made and stuffed, in order to provide the maximum crispiness. If you have never tried the savoury side of waffles, you should definitely order one!
http://yescycle.com/wp-content/uploads/2017/06/Image-uploaded-from-iOS.jpg
2931
2931
tours@yescycle.com
http://yescycle.com/wp-content/uploads/2018/05/yes-cycle-logo-1-300x138.png
tours@yescycle.com
2017-06-16 18:40:25
2018-04-18 15:23:39
Top Places for Desserts & Snacks near Denman Street