The Best of Vancouver by Bike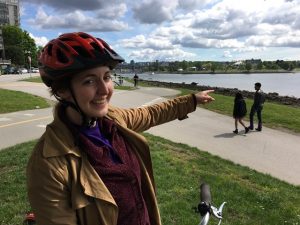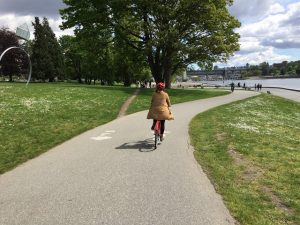 English Bay bike tour
Early 20th centuries, English Bay Beach was home to Vancouver's first official lifeguard, the legendary Joe Fortes, who taught hundreds of the city's early residents how to swim. English Bay beach is now a very busy spot.
Save the dates:
– The Celebration of Light is a fireworks competition that is held for two weeks every summer (usually the last week in July and first week in August
– Each winter it is the host of Vancouver's' annual Polar Bear Swim and each summer the Vancouver Pride Parade and Festival is held on English Bay Beach.

The Big Inukshuk at English Bay
The inuksuk is a very iconic stone in Vancouver. It is a human-made stone landmark used by the Inuit. The inuksuk may have been used for navigation, as a point of reference, a marker for travel routes, fishing places, camps, and hunting grounds.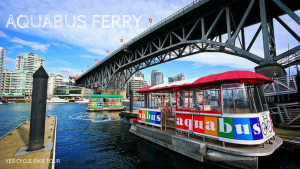 Aquabus Ferry ride with your bike
Aquabus is an easy way to reach Granville Island Market from English bay in 2 minutes. Aquabus is a family business. They have 12 ferries in total and they can take up to 10 bikes.
Granville Island Market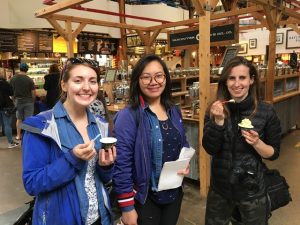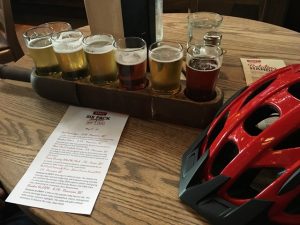 In the early 1900s, Granville Island was home to factories, plants and sawmills. Learn more about Today Granville island activities during our Vancouver bike tour.
Stop at the Giants


OSGEMEOS  twin brother takes their ongoing 'giants' project to Canada, transforming six industrial silos with their bold mural painting for the Vancouver Biennale. sited on Granville Island, the Brazilian brotherly duo is renewing the industrial landmark.
Walk around Emily Carr old Art school, the Blacksmith shop, the glass blowing shop, the Kids market and stop at Granville Island Market Brewery.  Canada's first microbrewery back in 1984. If you are minimum 2 people to order a beer tasting menu you will taste over 10 beers for less than 20$ in total. 
Ride along False Creek to Olympic Village 
   
Olympic Village
The Vancouver Olympic Village was built for the 2010 Winter Olympics hosted in Vancouver.There are over a thousand units that were able to accommodate over 2,800 athletes, coaches, and officials for the Olympics. Preparation and construction of the site began in February 2006. Construction was completed in 2009 for the use of the game.
In 2010 it was returned to the City of Vancouver. The village was converted into residential housing, a community centre, daycare, retail, and service spaces. Olympic Village is now a very expensive suburb to buy an apartment.
From Olympic Village, you can see:
Telus Science Museum very interactive for kids.
Rogers Arena Stadium  – Canucks Team
BC Lions Place
Dragon boat training and competitions regularly take place in False Creek in summer
Discover historical Chinatown and Gastown
   
Chinatown
Chinatown in Vancouver is Canada's largest Chinatown. Chinatown remains a popular tourist attraction and is one of the largest historic Chinatowns in North America. However, it went into decline as newer members of Vancouver's Cantonese Chinese community dispersed to other areas such as the City of Richmond. Many affluent Hong Kong and Taiwanese immigrants have moved there since the late 1980s. This new area is designated the "Golden Village" by the City of Richmond.
Chinese Garden has been named the World's Top City Garden by National Geographic. It is under renovation now until June. Built-in 1986 by fifty-three master craftsmen from China and 950 crates of traditional material, it was constructed using 14th-century methods – no glue, screws or power tools were used. Dr. Sun Yat-Sen Classical Chinese Garden is the first classical Chinese Garden in all of Canada!
The Garden offers free guided tours and traditional Chinese tea.
The Chinatown Millennium Gate
It is part of a larger plan to market Vancouver's Chinatown and to improve business and living conditions in Vancouver's Downtown Eastside.
 
Gastown
Gastown was Vancouver's first downtown core and is named after "Gassy", a Yorkshire seaman and barkeep who arrived in 1867 to open the area's first saloon.  The town soon prospered and quickly became a general center of trade and commerce on Burrard Inlet. Story: Gassy asked the employees of the sawmill to help him to build this saloon after work in exchange for beers.
Finish your ride along Canada Place and Coal Harbour

Canada Place
Canada Place is the home of the Vancouver Convention Centre, the Pan Pacific Vancouver Hotel, Vancouver's World Trade Centre, and FlyOver Canada (a virtual flight ride).
The building's exterior is covered by fabric roofs resembling sails inspired by the Sydney opera house. The 10 picks on the roof are representing the 10 Canadian provinces. It is also the main cruise ship terminal for the region, where most of Vancouver's famous cruises to Alaska originate between May and October.
Coal Harbour
The discovery of coal by captain Vancouver in the harbor in 1862 inspired the name. Within the harbor is a floating gas station for marine vessels.
Coal Harbour is home to Vancouver Harbour Water Aerodrome. Seaplanes are very popular for tourists to discover the city from the sky. A 30-minute tour will cost you 159$ based on two people.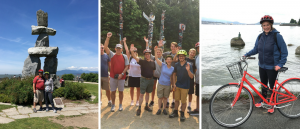 Want to learn more about Vancouver? Check our Vancouver Guided Bike Tours
Read our next article: The Best of Stanley Park
http://yescycle.com/wp-content/uploads/2018/03/Website-Banners-Yes-Cycle.png
600
1400
Lea Granado
http://yescycle.com/wp-content/uploads/2018/05/yes-cycle-logo-1-300x138.png
Lea Granado
2017-05-21 18:36:02
2018-05-01 15:10:46
What to do in Vancouver